Melanie Northrup (19 years experience)

A graduate of Colorado State University with a degree in Occupational Therapy, Melanie is the resident Hand Therapy specialist. She enjoys sewing, gardening and raising her 4 girls.
Jeff Koza (16 years experience)
Jeff graduated from Colby Community College with a PTA degree. He enjoys with all the general orthopedic patients.
An avid and accomplished golfer, Jeff also enjoys singing, fishing and travel.
Kali Keil (6 years experience) graduated from Chadron State University in Nebraska with a Master's degree in Physical Therapy. She is the mother of 2 little boys and enjoys running in the little spare time she has. Her special interests include women's health and she is a Moms in Motion Certified Instructor
Anne Bodner PTA (8 years experience)
Anne graduated from Denver Technical College with a degree in Applied Science. She loves to work with children and the elderly and her family and reading take up her spare time.
"To recognise and acknowledge the human spirit is truly humbling. It is a privilage to participate in the Physical therapy field."


Shane Keil PT, OCS (6 years experience)
Graduated from the University of Nebraska Medical Centerwith a Master Degree in physical therapy. He is an orthopedic clinical specialist who enjoys basketball in his off time.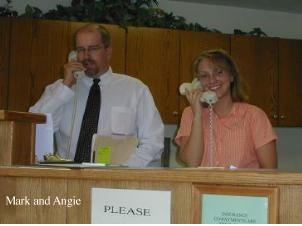 Mark McDonald PT, PC is the owner anf founder of McDonald PT. The business began in 1990 as a small professional corporation primarily to provide quality therapy services for rural Colorado communities.
Mark Graduated at the University of Colorado health sciences center in 1988 and is now attending Creighton University earning a doctorate on PT.Specialties. APTA Board Certification in orthopedics, Matheson trained FCE evaluator, Level II certified manual therapist through NAIOMT.